Despite the fact that tax laws and tax guidelines are complicated and can change frequently, you can configure your Shopify sales tax report generating tool to naturally deal with many basic estimations on taxes. You can likewise set up custom reports on taxes to address extraordinary tax assessment laws and circumstances.
To get a Shopify Tax Report, you need to go to Analytics > Reports in the admin panel of your Shopify store and select Taxes in the Finance section.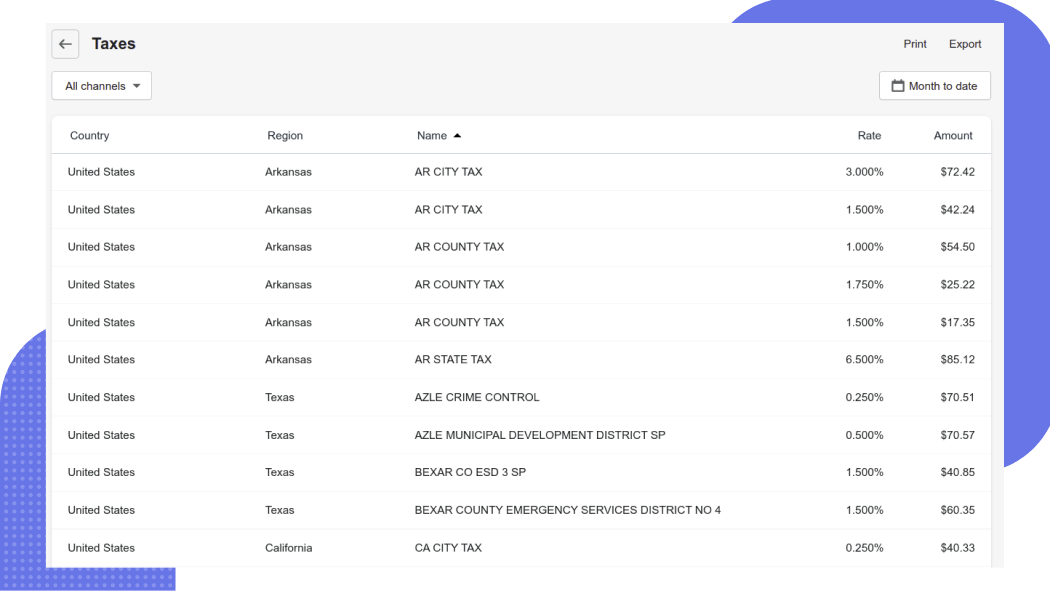 Tax report from Shopify depicts the statistics on deals and corresponding taxes that were applied to those deals in the chosen time period. Each column of the Sales Tax report Shopify provides shows a type of the tax. For example, it can be a local tax. The Shopify report for tax also shows its rate, and the aggregated sum of expense that was charged during this time period.
Report for sales tax Shopify provides can be viewed as a total for the store and by individual sales channels, like an online store, Facebook sales channel, Shopify point of sale, etc. Additionally you are free to choose the date range for tax report generation.
You can select one of the predefined date range values, for example last 90 days, month to date, year to date, quarter. Alternatively, you can choose individual time range.
Since taxes are region dependent, the tax report shopify provides selects the nation and locale dependent on the final location of the purchases. So it may show objective data in any event, even for cases of sales to locations that charge sales tax based on origin.
The final destination for every purchase is chosen based on its specified shipping address. In case it is not set up, the billing address in used for the purpose of determining the region. When both shipping and billing addresses are not available Shopify uses point of sale address to determine tax rate.
Basic tax configuration in Shopify
Online store owners should start configuring taxes in their stores by setting up the list of countries they ship products to. This is done by using the shipping zones functionality.
In your Shopify admin panel locate the Settings section and open the Shipping and delivery page. On this page create a new shipping zone, which is a country that you need to configure taxes for.
Return to the Settings page and locate Taxes section.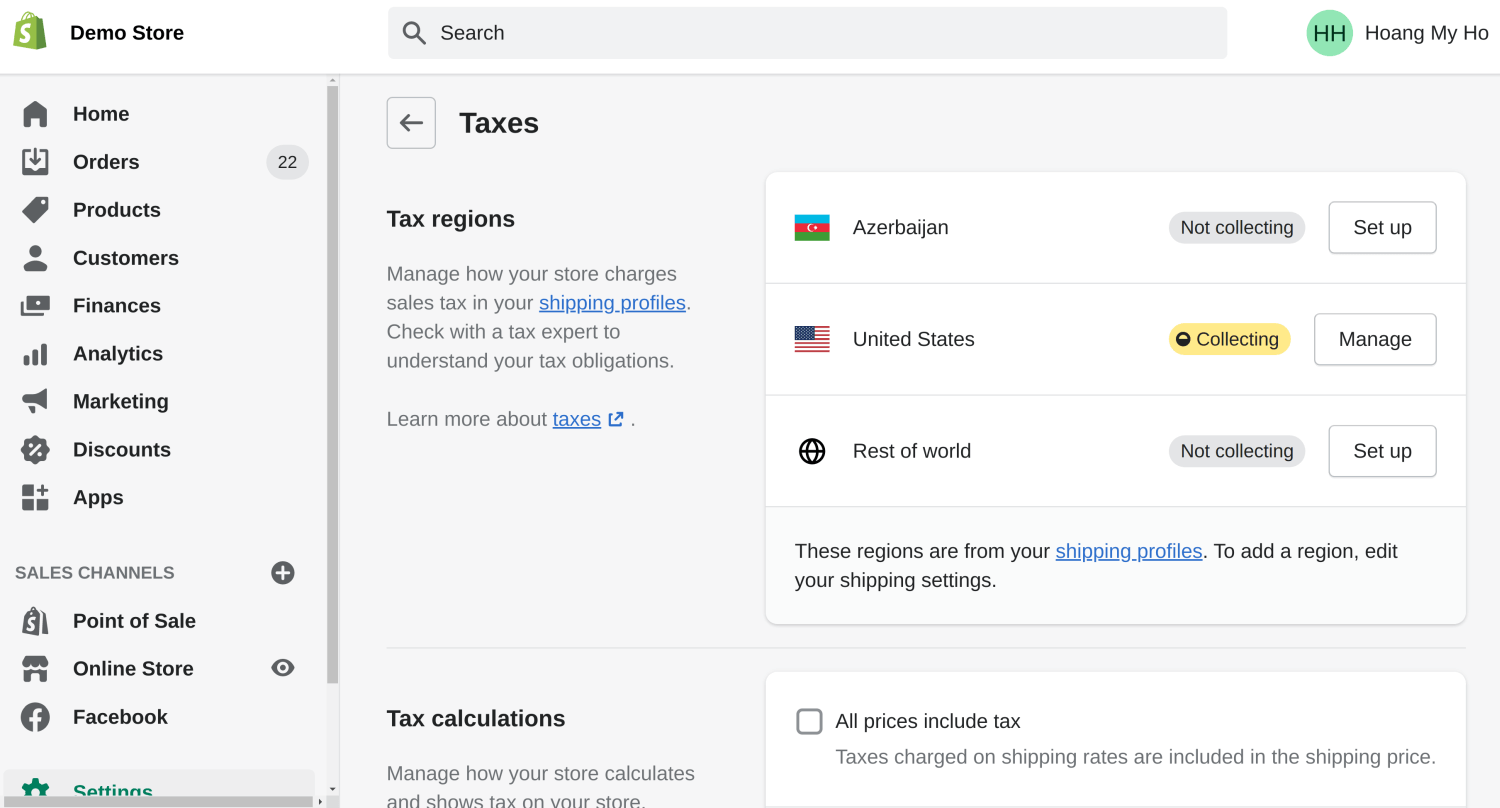 In the Tax Regions section locate the country you need to configure tax rates. Click Manage button to open the tax configuration page. On this page specify the base tax rate and the tax override. The latter is customized tax rate that can be used for specific product collections to override base tax rate.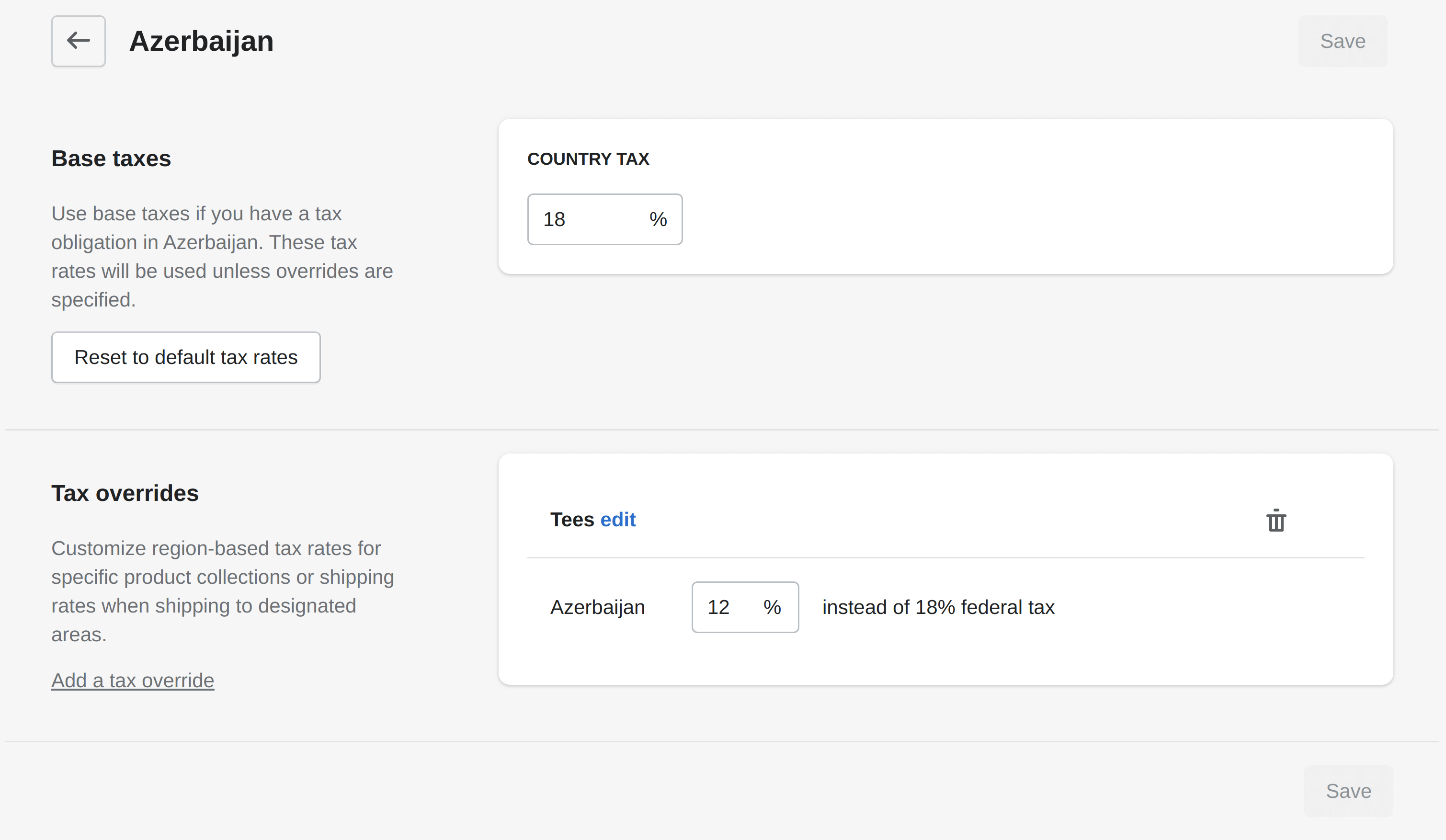 Taxation peculiarities in countries
Such countries as US, Canada, European Union, United Kingdom, Norway, Switzerland, Australia, New Zealand use taxes based on the registration. At that point, enter into Shopify the duty enrollments to gather taxes in your store.
For countries that use taxes based on location, you may use the default Shopify values or set the rates of specific country, or its region.
Keep in mind that some regions, like European Union, require taxation of digital products. Such items are taxed regardless of the seller location.
Other regions, like United Kingdom, require that prices displayed on its frontend included taxes. To configure your Shopify in that way in the admin panel of your store got to Settings > Taxes and in the section Tax calculations activate the option All prices include tax.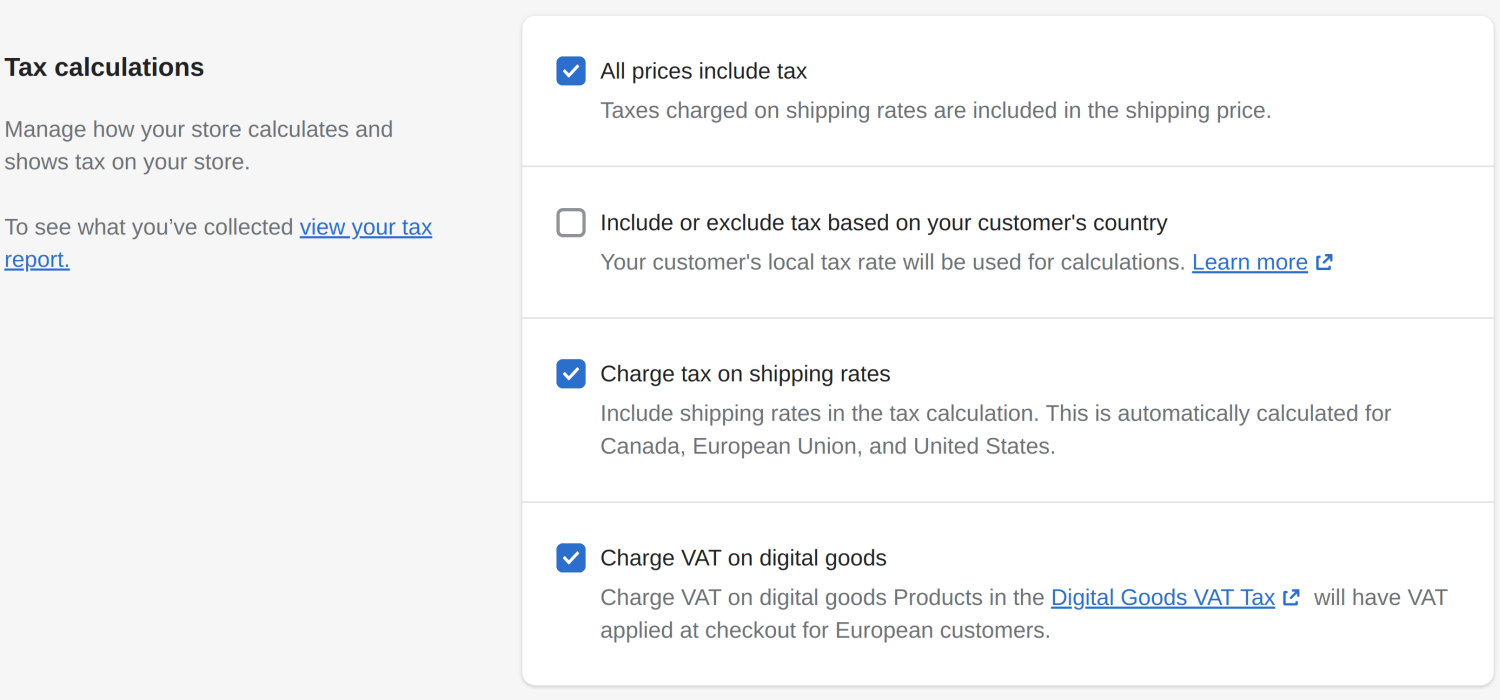 To use the local tax rate of the country your customer is located at, you can use the option Include or exclude tax based on your customer's country.
Additionally your store may be required to charge taxes on shipping. For stores that operate in Canada, US, EU, UK, Australia, New Zealand the tax on shipping is calculated automatically. Stores that operate outside those countries in this case should activate the Charge tax on shipping rates option.
Learn more on taxes peculiarities in specific countries on the Shopify help page on taxes.