This simple report shows the daily totals.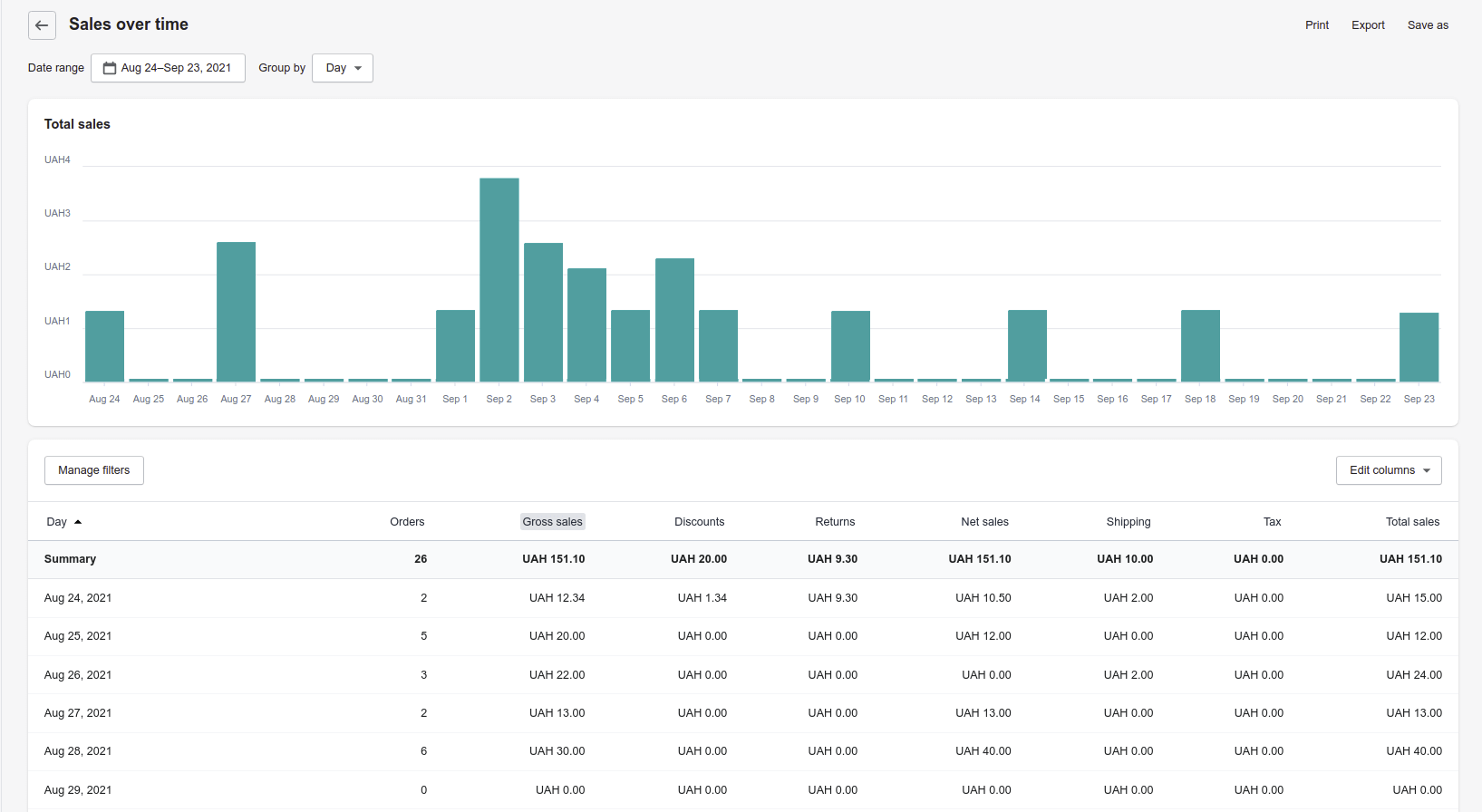 It is usually shown with other days. This way you can easily understand the average sales of the previous days and compare it to the last day. Thus, if something has gone wrong, you can always track it down. There are all kinds of cases.
For example, the best selling product is out of stock, or for some technical reasons the user cannot go to the checkout page, or, for example, the advertising funds have run out and the contextual advertising is no longer displayed, which reduces the number of visitors to the site.
Reports for Monthly Sales
Monthly sales reports in Shopify are similar to the previous one, but the main difference is that they are grouped by months instead of days.
Typically used to analyze sales for the year.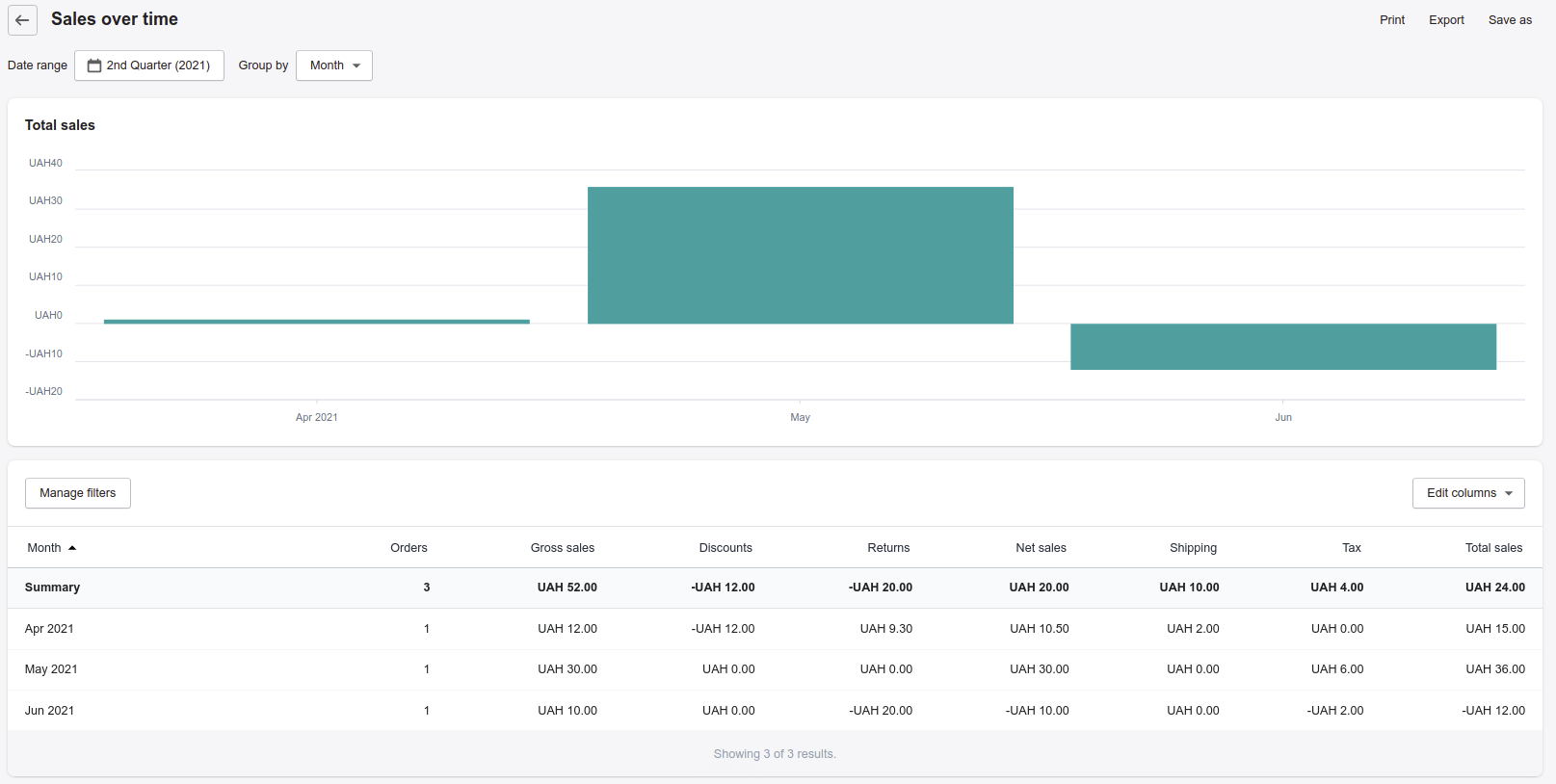 With data over several years you can track the seasonality of sales and make decisions based on it.
For example, it may not make sense to massively replenish the stock in the summer, because experience shows that sales during the vacation season fall a bit. But you should be well prepared for Black Friday, when customers are in the mood to buy a lot. It would be bad to miss such a chance and not get the desired profit from the fact that the goods in your warehouse ran out.
Reports for Sales by States
This type of sales reports in Shopify is so-called GEO reports and it helps you understand the composition of your customers. Where the most orders come from. For example, in Shopify you can get sales reports by states. Understanding this can lead to useful insights.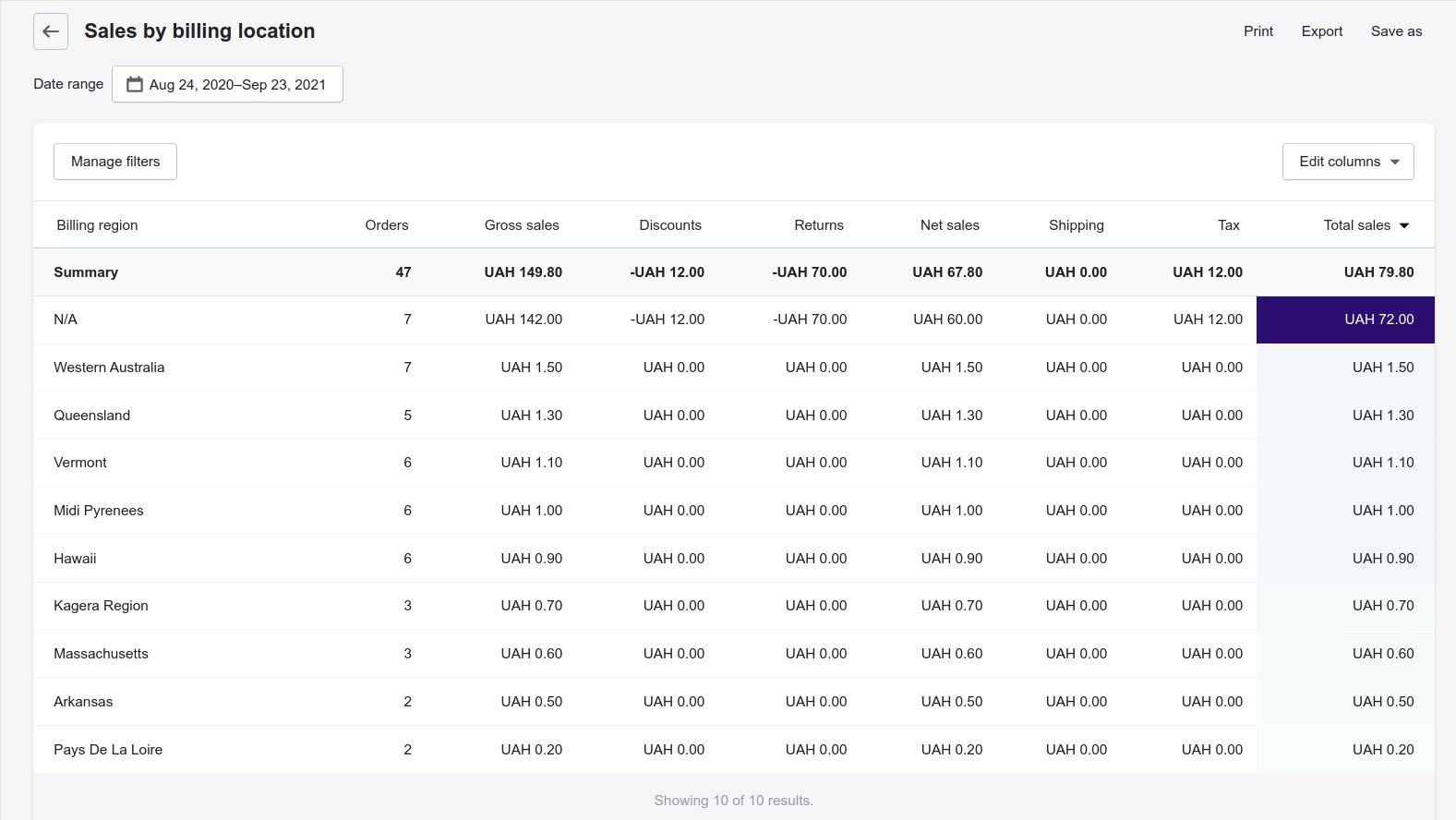 For example, such a report will show you which state or province to focus on. So, if you run contextual advertising on all the states, spending the same amount on each state, but one state brings you $1,000 a day and another only $10 a week. In this case, it might make sense to run ads only for the most profitable state or reconfigure your ads to be effective for the other states as well.
Reports for Product Sales
A report showing sales for each product. It helps to identify your bestsellers and bad sellers.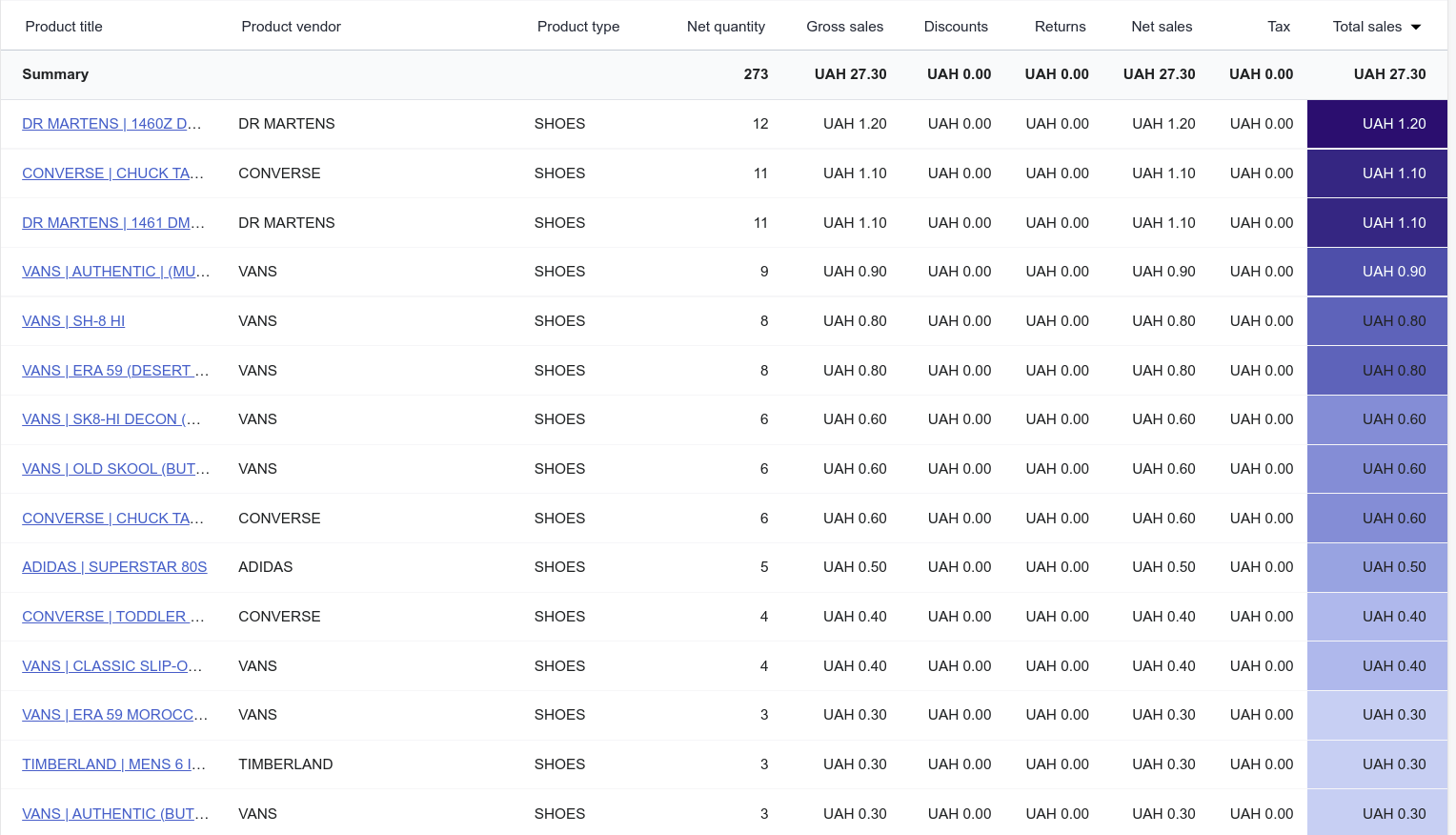 No one can deny that hoped-for and poorly selling products are a headache for all product owners. It might make sense to have a clearance sale on those products to make room and money for products that are selling well.
Reports based on Orders
Usually such reports are used when processing returns and forming shipments. For example, you may filter out orders that have been paid but not shipped. Thus, we can see the entire list of orders that can be shipped on one screen. Most often used for the period of the last few days.
Unfulfilled orders in the Shopify:
This report is good, but you need to open each order to see the products included.
So in our advanced reports, in addition to the same unshipped orders report: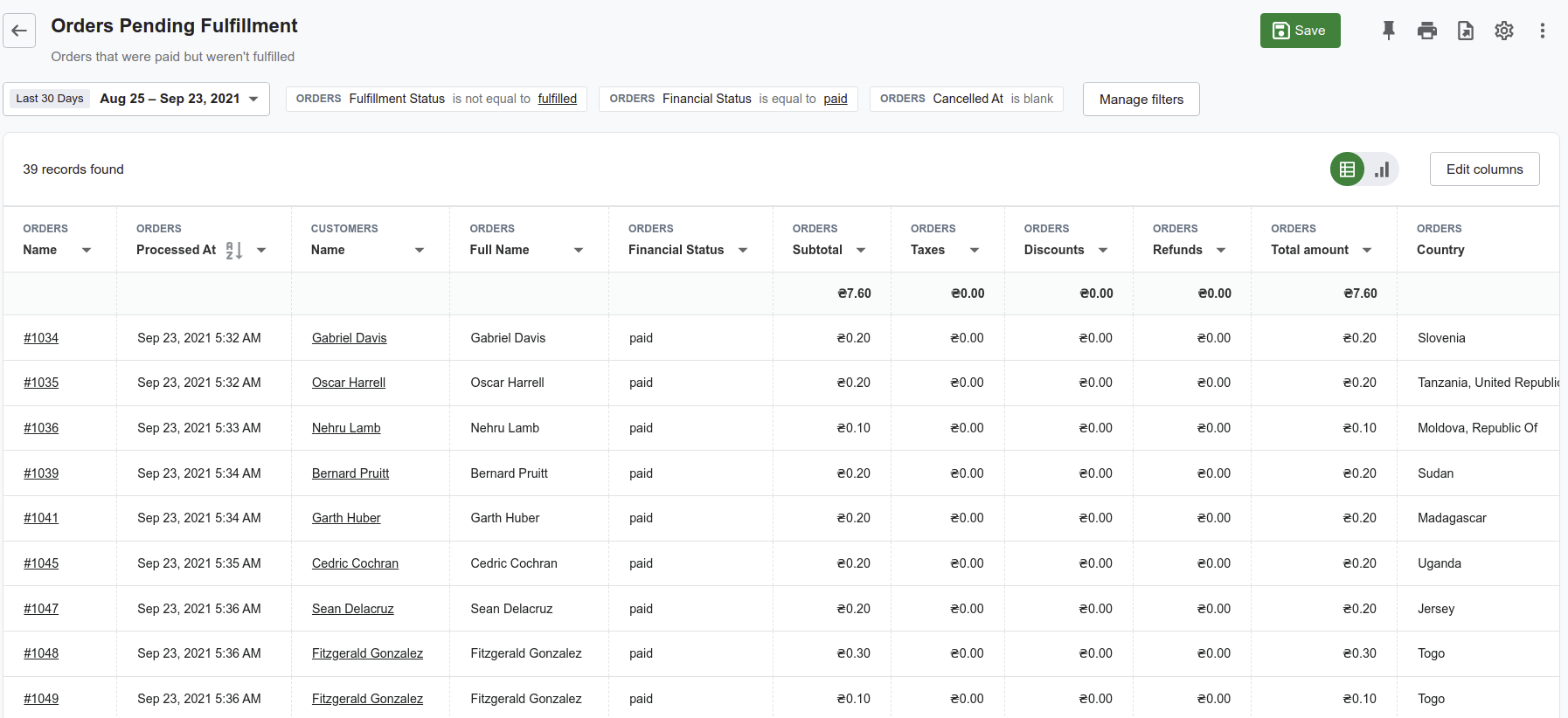 We offer a report on products from unshipped orders. This way you can see how much of each product is a pending shipment.