Use analytics to boost sales and revenue
There are several types of reports a Shopify store can obtain from the data available in its database. These reports in at large can be divided on general and more subtle and specific reports.
Shopify provides reporting functionality that is split into categories. These analytics sections are based on the type of the depicted information. For example, the Shopify Report "Sales Over Time" serves to understand the common picture of how sales are going in your store.
The list of available reports is universal for any Shopify store, however the exact reports that can be used by a store owner depend on the subscription plan a store uses.
Types of Shopify reports
Shopify Lite
Basic Shopify
Shopify
Advanced Shopify
Shopify Plus
Finances
✓
✓
✓
✓
✓
Products
✓
✓
✓
✓
✓
Live View
-
✓
✓
✓
✓
Acquisition
-
✓
✓
✓
✓
Inventory
-
✓
✓
✓
✓
Behavior
-
✓
✓
✓
✓
Marketing
-
✓
✓
✓
✓
Order
-
-
✓
✓
✓
Sales
-
-
✓
✓
✓
Retail sales
-
-
✓
✓
✓
Profits
-
-
✓
✓
✓
Customers
-
-
✓
✓
✓
Custom reports
-
-
-
✓
✓
Shopify reports on finances
The Finances reporting section of the Shopify reports page provides depiction of several key values of the store operation. Additionally, this section contains links to the finances summary page and the detailed reports on store finances.
In order to obtain this type of reports open the Shopify backend admin panel, from where navigate to Analytics > Reports. Choose a preferred financial report, for example Finances summary. You can select a sales channel and set the time range to depict in the report. Removed channels won't appear in the list of channels, however the historical data can be viewed for them.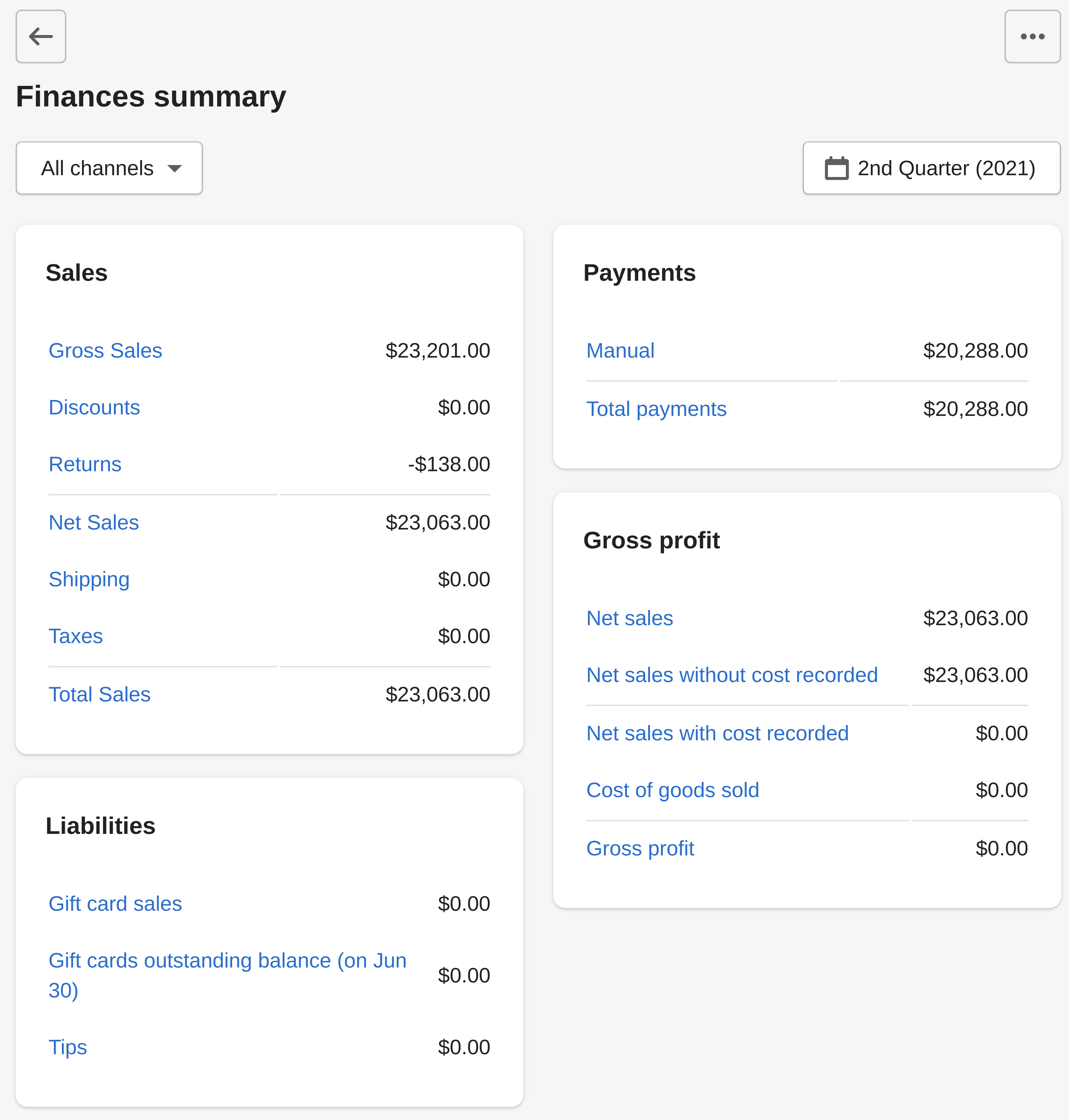 Shopify reports on products
Product analytics in Shopify is available after navigation to Products > All products. Select the product you need to get the data on and on its page locate the Insights tab. Click the View details option to see the sales statistics on the particular product.
For each product Shopify is capable of showing the net sales, sales breakdown, net sales by channel, net units sold by traffic source, customers. The latter Shopify report shows the ratio of first to existing shoppers.
Reports on acquisitions
Starting form Basic Shopify plan a store owner can track acquisitions of new visitors. This reporting section includes statistics on sessions over time, by referrer, by location.
Do not confuse acquisition reports with the Sales by traffic referrer source report. The former does not show converted sales or the number of purchases. The acquisition reports simply displays a number of shop's visitors.
Inventory reports
Shopify provides a way to view a month-end inventory snapshot, and track the amount of inventory sold per day. Such information is available through inventory reports, which can be found at Analytics > Reports > Inventory section.
Inventory reports are not updated immediately when requested. It may take 12-72 hours to renew the report data.
Behavior reports
The reports on behavior brings insights about how to better market products, enhance upsell to target audience, create promotional deals (discounts, product bundles), increase average order total.
Navigate to Analytics > Reports > Behavior to find behavior reports. Most of them are available on Basic Shopify Plan, however the Online store cart analysis report is available for stores on Shopify or higher plan.
Reports on marketing
Such type of reports allows a store owner to get information on the efficacy of marketing efforts and conversions in his store.
Information from these reports may be a key in understanding the reasons that attract shoppers to the store and persuade them in making purchases.
Live View Shopify report
An online shop owner can in almost real time see what is happening in his store with the Live View report. The data is depicted on the virtual world map or globe depending on the visual style preference. Navigate to Analytics > Live View to get this report.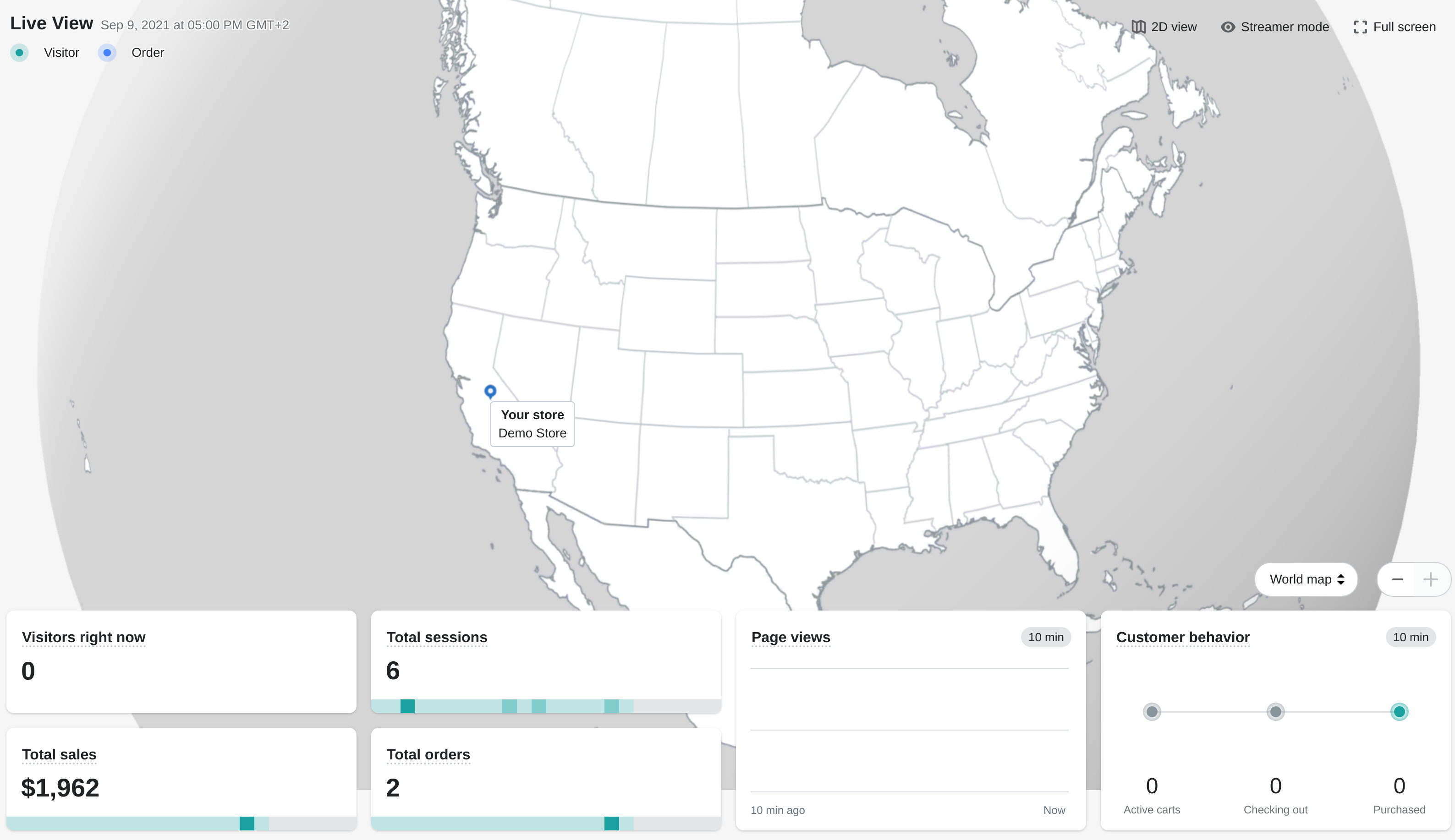 Live View functionality is especially useful during the periods of high in-store traffic. Those events can occur, for example, on days of sales, like Black Friday, or Cyber Monday.
Live View report allows to monitor the in-store activity from all channels, and can be used to get the picture on immediate results of marketing efforts, like discounts and other marketing promotions.
A Streamer mode option allows to share the Live View Shopify report. During such streaming the store metrics are blurred.
Reports on orders
To see order volume, order fulfillment, shipping, delivery, returns navigate to Analytics > Reports > Orders section.
For example, the Orders over time report displays total number of orders over the specified time period.
Shopify reports on sales
See data on orders as sales over time, by product, or by channel with sales reports. To get these reports navigate to Analytics > Reports > Sales section. Here click Show all button to get all reports.
Sales report for point of sale (POS) can be obtained an Retail sales report section.
Retail sales report
Get the information on sales for each POS of your store. Navigate to Analytics > Reports > Retail sales to build such reports.
For stores on Shopify plan the platform provides reports on retail sales by product, by product variant SKU, by product vendor, by product type, by Point of Sale location, by staff at register, by staff at register (daily), by staff who helped with sale.
Reports on profits
To view profits reports first check if your store on Shopify plan or higher. Then navigate to Analytics > Reports > Profit margin section.
Profit is depicted in reports for products and variants that had cost recorded at the moment of sale.
Customer reports
Stores on Shopify, Advanced Shopify, or Shopify Plus plan get access to detailed data on customers. Customer reports show average order count, average order totals, expected purchase value.
Additionally customer reports section brings visualization on reports as customers over time, first-time vs returning customer sales, customers by location, returning customers, one-time customers.
These customers reports have limit on maximal number of 250,000 customers. The data is updated usually every 12 hours.
Custom reports
Shopify store owner can see exactly the data he wants in the report by generating custom report. Navigate to Analytics > Reports > Create custom report.
Use filters to exclude the data that is irrelevant for the particular custom report. Alternatively, edit an existing report