General configuration
Let's start a configuration of the product feed for Google Shopping data feed on a real google shopping feed example. A standard process of google shopping feed management requires you to input general information regarding the feed. This section requires setting feeds' internal name to be displayed in the list of feeds and other places. Additionally, you can specify a brief description of the feed to provide more information.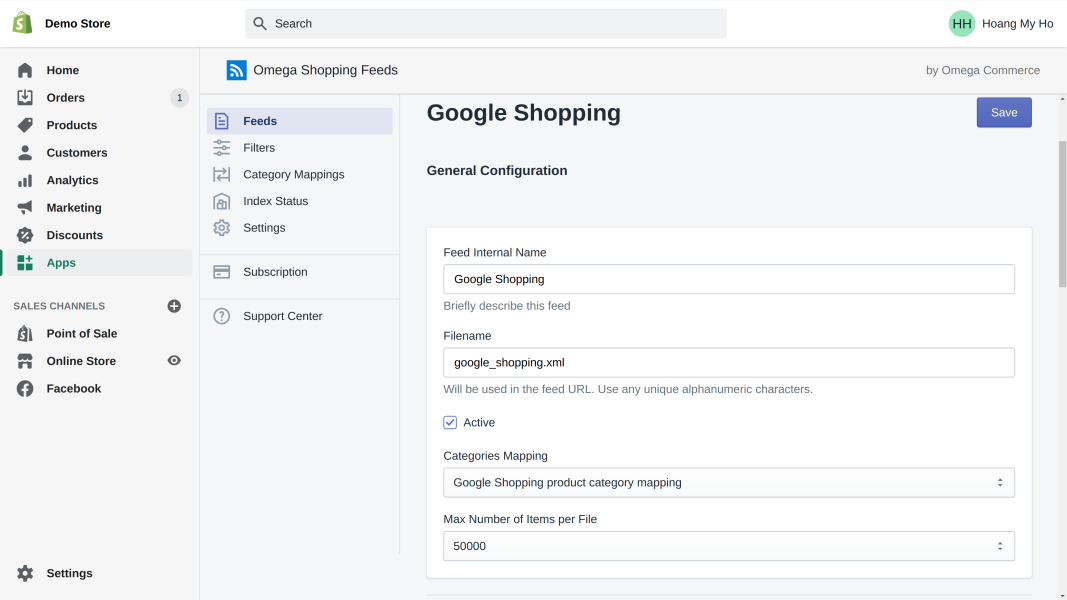 Set the unique filename for the feed file, for example, give a google shopping feed template the name of google_shopping.xml. This name will be used in the feed URL.
You may need to specify category mapping if the internal taxonomy of your store doesn't fully correspond to the taxonomy of the Google Shopping. Category mapping is explained explicitly in the Omega Shopping Feeds manual.
When your product feed has too many items, it may be rejected by the marketplace. Google Merchant Center limits the number of items in one feed for every user account. Uploading a feed that is above this limit will cause the error 'Offer quota full," and the feed will be rejected. The limit of the Merchant Center varies, and the allowed number is somewhere in between of 50 000 to 200 000.
You can simply limit the maximum number of products per feed's file. If you definitely need to submit google shopping feed which has a number of items that is above the limit, you can contact the support of Merchant Center and ask to increase the limit for your account.
Lastly, select whether this particular feed should be active. For full google shopping feed requirements, check out the useful links at the bottom of this page.
Applied filters
In this section, specify filters to remove irrelevant products to this feed. For example, you may want to exclude items with zero listed price, with no picture, those that are out of stock, etc.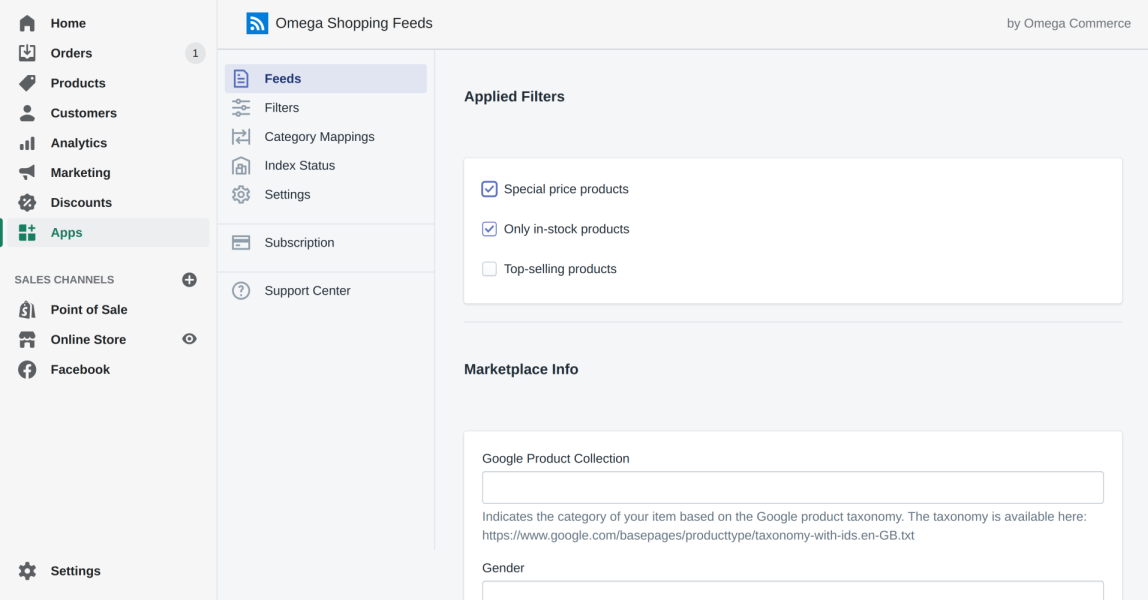 Click on the filter to activate it for a particular product feed. The filter creation process in details is shown in the Omega Shopping Feeds manual.
Marketplace Info
In this section, specify the information regarding the feed that can not be fetched automatically. For the Google Shopping product feed, provide the following information:
Google Product Collection. It indicates to which category of the Google product taxonomy your item belongs. Read the full taxonomy of the Google Shopping here
Gender of customers of the products in the feed
Age Group of the customers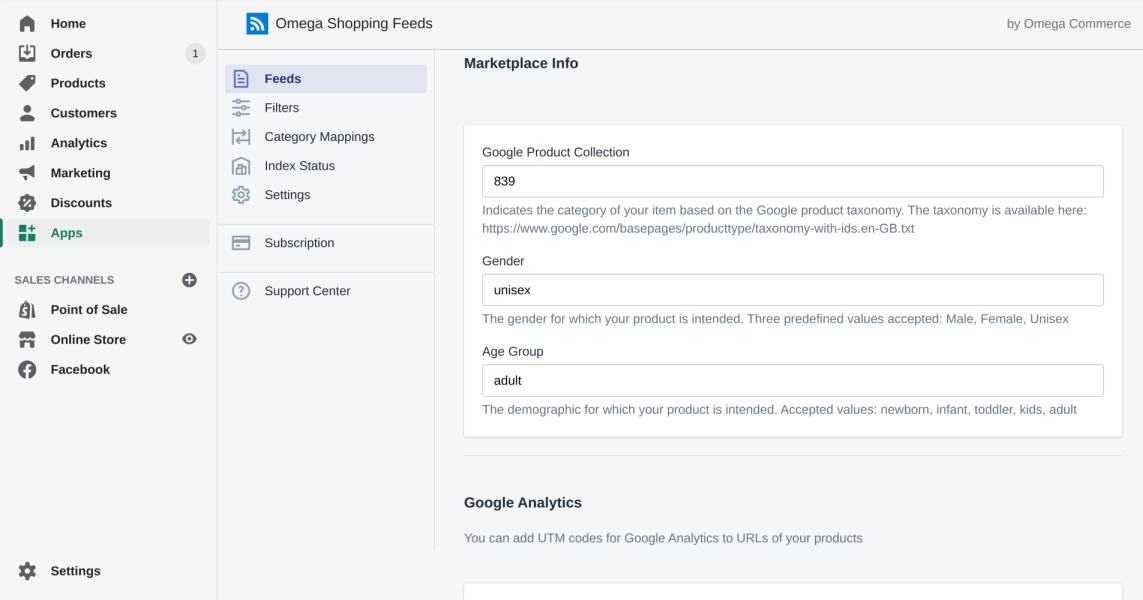 Google Analytics
Track the performance of your feed by using the Google Analytics tool. Specify UTM codes that our module will add to URLs of your products. Set the campaign source name, campaign medium and campaign name.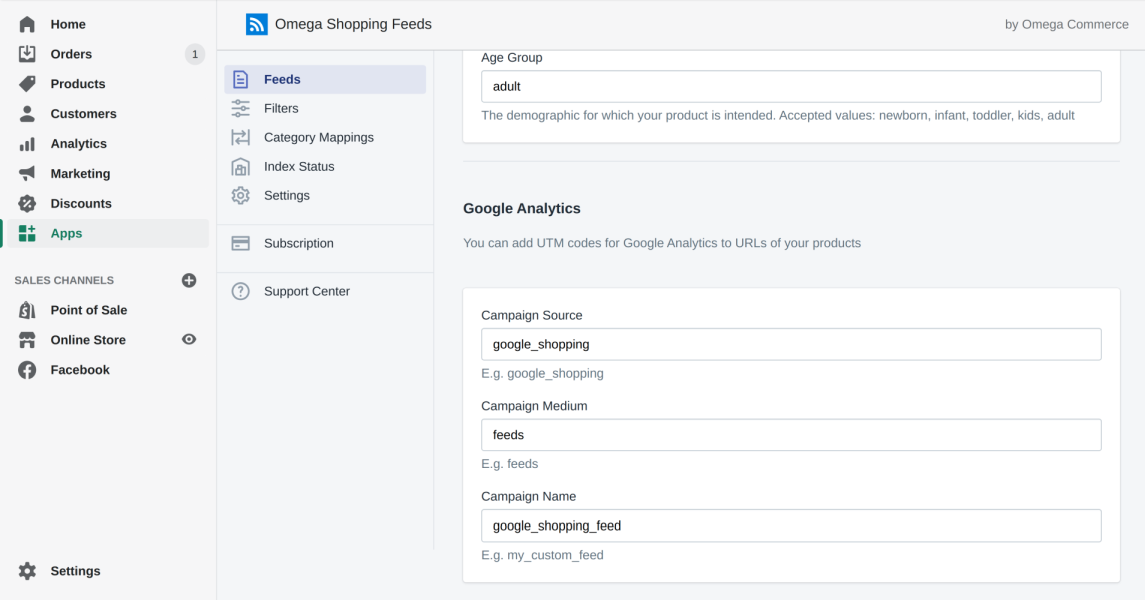 Save the feed
When all necessary information is provided, scroll the page up and click the Save button. In the splash notification, press the link Generate Feed to finish the feed creation process.